Oxford Education
International Chain of Pre-Schools, Managed by foreign Qualified Educations, Unique OLS of curriculum of activities, Theme based Infrastructure, Well Conceptualized In-house activity books, Holistic development of children, All National/International celebrations, Easy Inter branch Transfer, Non-Toxic Play/Teaching Equipments, Colorful of attractive surroundings, Well Trained Staff, Orientation/Personalized sessions for Parents, We recognize value of work on multiple intelligences.
Vision
The vision of Oxford Juniors is to be the global leader and most admired organisation in early childhood development by adopting a pedagogy that brings about evolution of young personality, properly channelized towards creativity and self-realisation to contribute positively to the society.
Mission
At Oxford Juniors, our mission is to achieve our vision through
Employment of dedicated and result oriented team members.
Identification and support of business partners who are passionate about early childhood development.
Development and deployment of strategies to implement the best learning practices.
Creation of a research and development team to continuously evolve new methodologies for effective teaching/learning practices.
Development of a transparent system to ensure a positive connect to the community.
Our Core Values
Our organizational philosophy is to achieve
Excellence:
We thrive for excellence to ensure our service delivery is a notch above the competition.
Transparency:
We believe in open operating environment whereby all stake holders are aware of their objectives without any hidden agenda.
Integrity:
We believe in best corporate governance practices through fair play.
Equality:
We strive for equality, inclusiveness, and diversity in all our programs, practices, facilities, and people.
Innovation:
We value and will respond in an appropriate manner to the voices, ideas, and understanding of all stake holders.
Honesty:
We ensure ethical business practices in all transactions.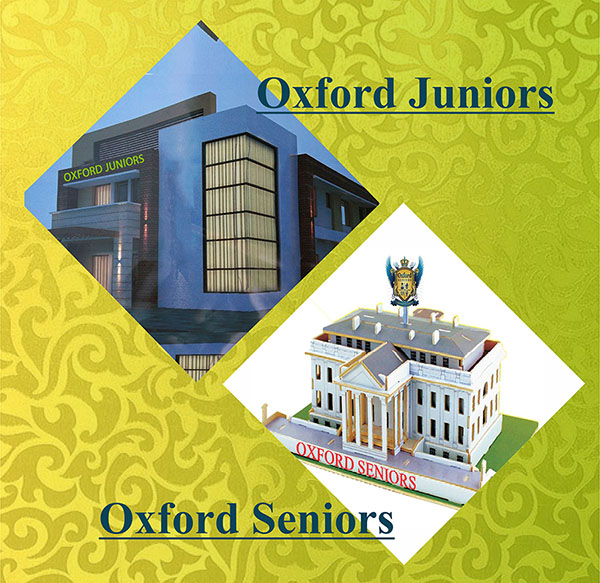 Visit us: www.oxfordjuniors.com
Visit us: www.oxfordseniors.in